Decades ago on the Fijian island named Totoya, Roko Sau Kubunanavanua and his wife had a stillborn baby. The baby was buried at sea and henceforth the channel leading to the island was labeled as "sacred passage" or Daveta Tabu. The chief imposed a ban or tabu so that the area would be preserved. However, the ban did not last. In the mid-1990's, the chief preceding the current Roko Sau lifted the ban due to an increase in the commercial value of fish stocks, which would boost the economy of Totoya.
In Fiji and other Pacific islands, marine resources are managed by a customary governance system. When there is a decline in marine resources, such as fish, chiefs have the authority to impose a ban. They also have the authority to lift the ban.
Totoya MPA (Marine Protected Area) Established
It wasn't until almost two years to the day, Roko Sau (Roko Josefa Cinavilakeba), high chief of Yasayasa Moala group, which includes Totoya, reinstated the protection of Totoya's sacred passage as well as different areas of reef by creating the first Marine Protected Area (MPA) for the island. The Totoya MPA encompasses approximately 4 square kilometers and fishing is prohibited.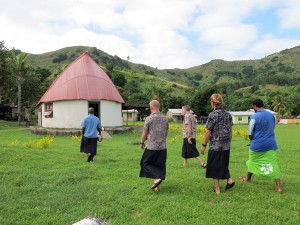 Now two years later, the Khaled bin Sultan Living Oceans Foundation is surveying and mapping the reefs around Totoya and other islands in the Lau island group as a part of the Global Reef Expedition. Local representatives from the University of the South Pacific, Wildlife Conservation Society, Lau Provincial Office, Ministry of Fisheries, and high chief Roko Sau have joined the mission to contribute their invaluable local knowledge to the research project. In addition to conducting sea cucumber surveys, an important commercial marine resource in Fiji, they will provide guidance and liaison with the chiefs of the islands we will be surveying.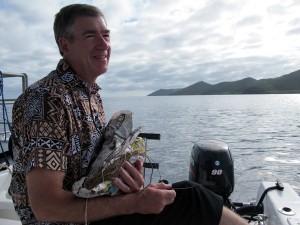 Before we commence our research at each of the Lau group islands, it's customary to gain permission from the local chiefs. In a short ceremony called a sevusevu, representatives from the mission will present the Chief with kava and ask for his permission to conduct our research in the waters of their island. In return for our gift, we hope to become invited guests to continue our important studies of the Fijian marine environment. Following today's sevusevu, Roko Sau graciously permitted our team to survey the reefs around Totoya MPA and the first day of work on our Fiji mission was a resounding success!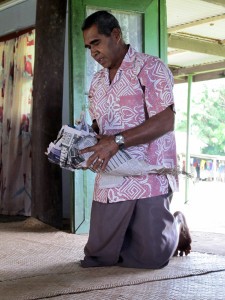 (Photos/Images by: 1-3 Stacy Jupiter)
To follow along and see more photos, please visit us on Facebook!
Explore all our latest news from the field