On the Global Reef Expedition, we prioritized using a collaborative approach to study and map coral reefs by partnering with scientific and local experts in each of the countries we visited. While the scientific team was conducting surveys underwater, we also implemented various outreach and education programs in parallel to improve ocean literacy and inspire the next generation of ocean advocates. The partnerships we formed allowed us to exchange knowledge and learn how local communities were using and managing their marine resources. 
One of the biggest take-aways from the GRE was that nearly every community we worked with expressed, and continues to express, the want and need for conservation of their reef systems. Working directly with communities, sharing findings, using our education and outreach programs, and expanding on the current management efforts has proven to be the most successful in conserving the reefs visited on the GRE.
In many locations, communities have revived traditional conservation management tools to help conserve their marine resources. For example, in the Cook Islands, local communities were implementing ra'ui, a customary management practice used to regulate fishing practices, and since the time of our mission, have expanded and designated their entire exclusive economic zone as an MPA and are working to improve their nearshore fisheries management. While in the Cook Islands, we partnered with local managers and planners by sharing our findings and maps to aid in the designation and implementation of the Marae Moana, the Cook Islands Marine Park. More recently, our partners in Fiji have been working closely with KSLOF scientists to establish a locally recognized protected area around the island of Navatu in the Lau Province and are working to have this become an internationally recognized MPA. We are also helping them develop new ways to monitor the reef so they can manage the reef using science-based solutions.
Through our education workshops, we also found that by teaching in local schools and through community outreach, we are able to reach even wider audience as most people take the information home to share with their families. When the community is able to understand and use our findings, they can become better ocean stewards and advocates for protecting their vital resources.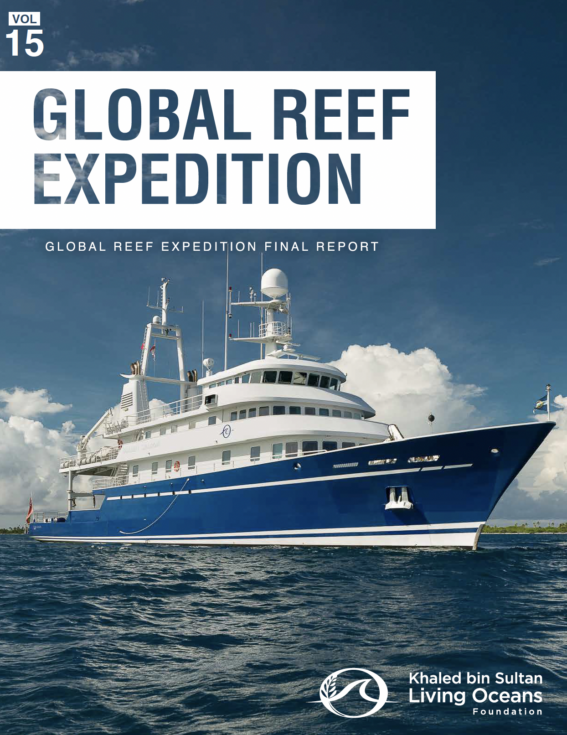 Global Reef Expedition Final Report
Learn more about out findings in the Global Reef Expedition Final Report. Over the course of ten years, the Khaled bin Sultan Living Oceans Foundation circumnavigated the globe studying the health and resiliency of coral reefs. This report summarizes our findings from that research mission, provides valuable baseline data on the status of the world's reefs at a critical point in time, and offers key insights into how to save coral reefs in a rapidly changing world.
Explore all our latest news from the field