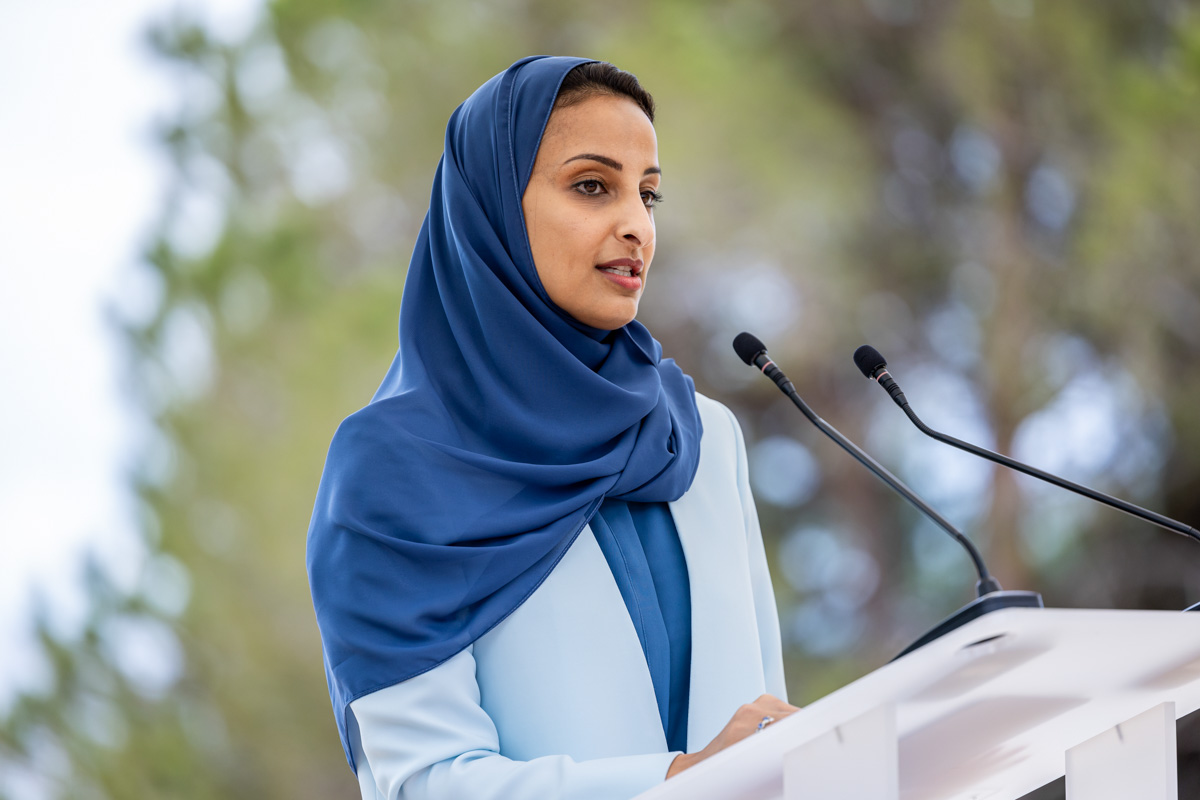 Earlier this month, H.R.H. Princess Hala bint Khaled bin Sultan spoke about the importance of conducting science for sustainable development at the Third Foundations Dialogue Meeting in Monaco. 
Hosted by the Prince Albert II of Monaco Foundation on behalf of the Intergovernmental Oceanographic Commission of UNESCO, this high-level event brought philanthropic organizations from around the world together in an effort to align our efforts in support of the UN Decade of Ocean Science for Sustainable Development, known as the "Ocean Decade." Together, we are helping the Ocean Decade attain 'the science we need for the ocean we want.'
As the President of the Living Oceans Foundation, Princess Hala spoke eloquently about her own journey into marine conservation and the Foundation's work to preserve healthy oceans for current and future generations. She also highlighted the value of embracing a philosophy of co-design — working with community members as equal partners when developing science-based solutions for ocean conservation. In her speech, she called upon the global marine philanthropic community to work together and reach across borders to find solutions that can lead to a healthier ocean for all.
See what she said in her speech from the opening session, which was attended by HSH Prince Albert II of Monaco, HRH Princess Lalla Hasnaa of Morocco, and Mrs Audrey Azoulay, Director General of UNESCO, along with many other esteemed guests.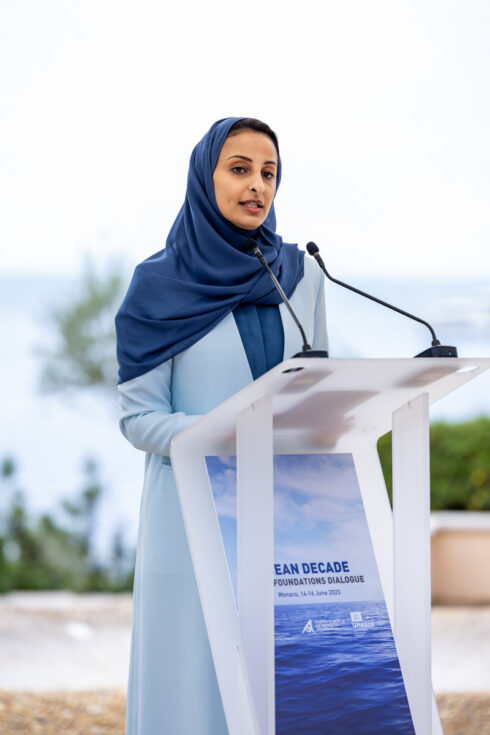 Science Without Borders: Our Approach to Co-Design
A speech given by HRH Princess Hala bint Khaled bin Sultan at the Third Foundations Dialogue on June 14, 2023 in Monaco
Your Serene Highness Prince Albert, 
Your Royal Highness Princess Lalla Hasnaa, 
Distinguished guests and members of the Foundations Dialogue, 
It is with great honor and pleasure that I stand before you today on behalf of the Khaled bin Sultan Living Oceans Foundation, an organization my father founded more than 20 years ago to protect, preserve, and restore the health of our oceans. We have made great strides in that time, but we always knew that to achieve this grand and noble mission, we cannot work alone. 
That is why I want to extend my heartfelt gratitude to Prince Albert II of Monaco and his Foundation, to UNESCO, and to members of the Foundations Dialogue, for bringing us all together here in beautiful Monaco to join forces in pursuit of ocean conservation. 
My father, Prince Khaled bin Sultan, has become known over the years for his contagious passion for exploring, restoring, and conserving the oceans, coral reefs in particular. He instilled in me a great love and respect of the oceans, but also a deep sense of responsibility to protect the coral reefs and conserve these fragile ecosystems so that we can continue to explore and enjoy them for generations to come. It is his passion and legacy that I carry with me today. 
Throughout the years, my love for marine conservation has been met with the heartbreaking reality of deteriorating reefs around the world. Many of the vibrant reefs I once marveled at while SCUBA diving now pale in comparison to what they once were. The statistics are alarming: we have lost over half of our coral reefs, and at least one-third of our mangrove forests and seagrass meadows in my lifetime alone. The consequences of this loss extend far beyond the realm of the marine environment, and they have profound implications on the lives and livelihoods of billions of people around the world. 
In a world where the challenges facing our oceans are complex and multifaceted, the Living Oceans Foundation believes that true success lies in the collective efforts of communities, scientists, and traditional leaders working together. Co-design represents a powerful approach to marine conservation, one that enables us to forge alliances and design sustainable solutions that benefit both the environment and the communities that depend upon them. This approach has always been the cornerstone of our work, which is guided by our motto, "Science Without Borders®." 
Since the Foundation was first established, we have embraced this principle of co-design, recognizing that our work can only be effective if it aligns with the needs and aspirations of the communities we serve. We have strived to build bridges, to foster collaboration, and to work hand-in-hand with coastal communities around the world, both in large countries and in small island nations, on coral reef conservation. We use cutting edge scientific research, outreach, and education, to provide them with science-based solutions to protect and restore ocean health. 
Through the Global Reef Expedition, the largest coral reef research mission in history, we traveled around the world to assess the health of coral reefs. However, we did so with a unique perspective. Rather than imposing our presence, we sought invitations from communities that desired to harness our scientific research for conservation. By doing so, we ensured that our efforts were rooted in the local context. 
During our expeditions, we not only engaged local scientists , but we also extended invitations to traditional leaders and community representatives, recognizing their role as custodians of their marine environments. By involving them in our research mission, we forged lasting partnerships and fostered a sense of ownership in our collective success. 
Building upon this approach, we have now embarked on our UN Ocean Decade project entitled: "Science Without Borders®: Conserving the Tropics." In collaboration with coastal communities in small island nations, we are working with them to develop community-based marine protected areas and management plans. By providing them with the necessary tools, training, and resources, we are empowering these communities to take ownership of their marine resources and become stewards of their own destinies. 
Our project focuses on the preservation of coral reefs, mangrove forests, and seagrass meadows, recognizing the interconnectivity and symbiotic relationships that exist within these ecosystems. By engaging local communities and integrating their traditional knowledge with low-cost monitoring tools and cutting-edge scientific research, we aim to create sustainable conservation strategies that balance ecological integrity with social and economic well-being. 
In our quest to conserve tropical marine ecosystems, we firmly believe that the involvement of communities is not only essential, but also transformative. By empowering individuals, we empower societies, creating a ripple effect that echoes far beyond the boundaries of any single project. It is through this collective effort that we can usher in a future where our oceans thrive, our communities prosper, and the delicate balance of life is preserved for generations to come. 
As we gather here over the next few days for the Foundations Dialogue meeting, let us apply this principle of co-design to our work. Let us join forces, transcend borders, and foster collaboration among foundations working towards healthy oceans for all. 
My father once wisely said, "We do not hope to stop human development— only to ensure it is sustainable for future generations to benefit from healthy oceans." These words resonate deeply within me, and so they are words I consistently refer to when speaking about ocean conservation, serving as a constant reminder of our shared responsibility to safeguard the ocean's riches for the well-being of current and future generations. 
Together, let us seize this historic opportunity to manifest the crucial changes our oceans desperately need. Only by working together can we tackle the big problems facing our oceans. 
Together, we have the power to unlock the full potential of our oceans and build a legacy of sustainability that will endure the test of time. 
Let us embark on this collective journey, embodying the spirit of "Science Without Borders," and ensure that the legacy we leave behind is one of harmony, resilience, and boundless hope for the future of our living oceans.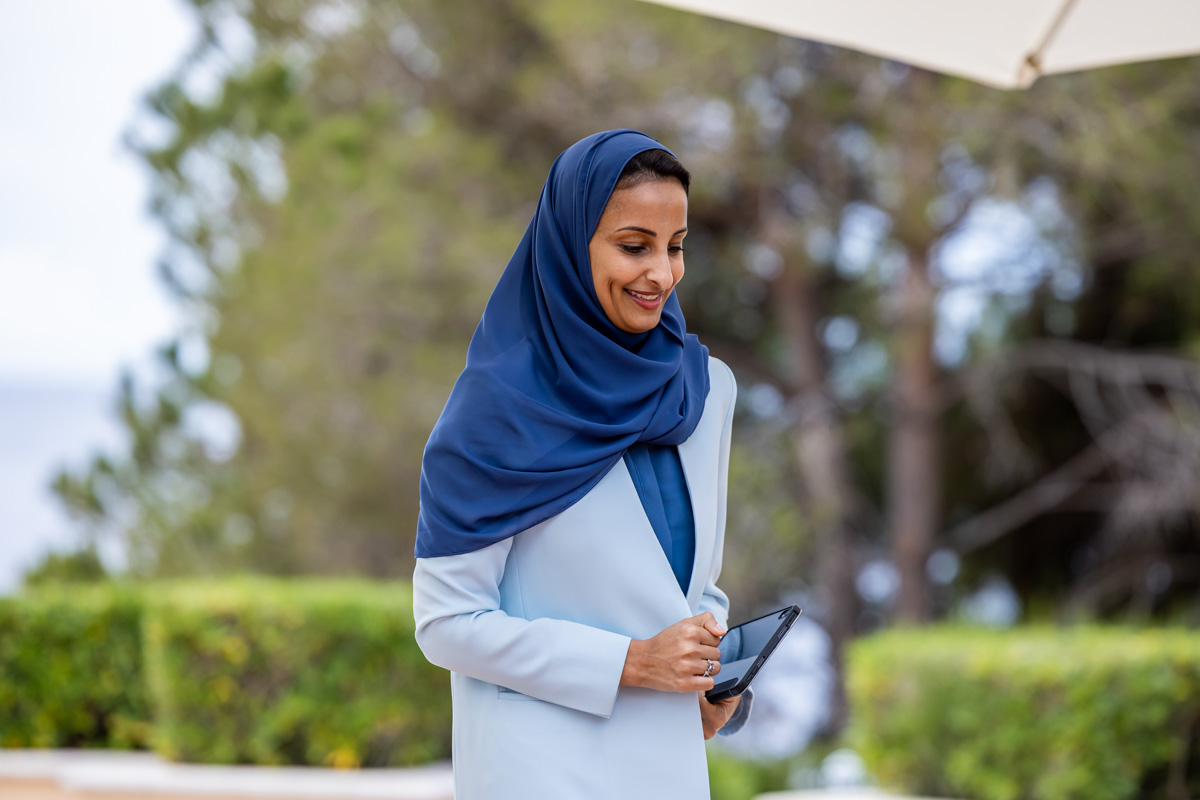 All images ©Philippe Fitte/FPA2
Explore all our latest news from the field