Earlier this month, H.R.H. Princess Hala bint Khaled bin Sultan spoke about the importance of marine conservation for sustainable development at The Global Diwan's Blue & Green Security Forum in Nice, France.
This high-level event brought together business leaders, experts, and decision makers from Europe and the Middle East to tackle some of tomorrow's most important challenges: the environment and food security. Designed to inspire a renewed dialogue between Europe and the Arab world, the Forum covered many topics related to sustainable economic and human development in the MENA region. It also highlighted women and young leaders who are committed to providing solutions.
As a Director of the Living Oceans Foundation, Princess Hala spoke eloquently about her own journey into marine conservation and the Foundation's work to preserve healthy oceans for current and future generations. She also called upon the global community to support efforts to conserve coral reefs and other coastal marine ecosystems—before it is too late.
See what she said in her speech from the opening session, which can be found below: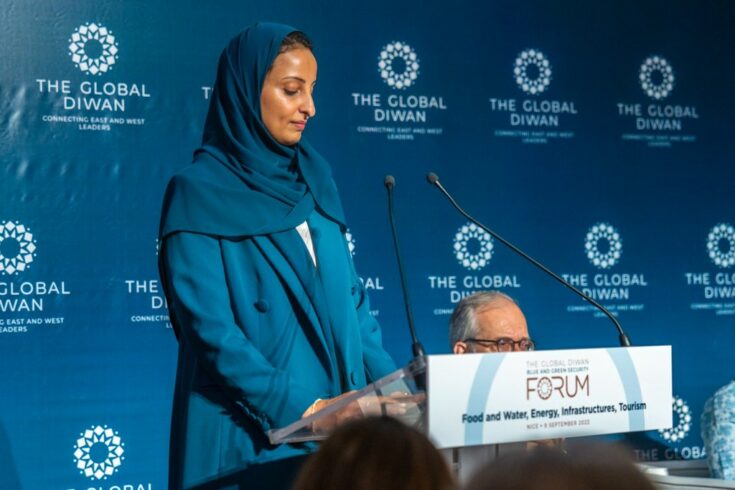 Ladies and Gentlemen,
I was merely 9 years old when my father first taught me how to scuba dive. We were in Jeddah early one morning for an advanced shark dive. My father noticed my nervous demeanor ahead of my plunge. With his usual poise, he reached over and told me, "Be calm and be safe."

I still remember the mix of tension and bewilderment as I plunged into the cold water, heard the sounds of my own breath with the rising bubbles and felt the submerging in total serenity as I gradually explored the stunning serenity of underwater life.

I, unknowingly, also started a deep bond with my father, Prince Khaled bin Sultan, who was known for his contagious passion for exploring and conserving the ocean. In fact, he frequently recalls his diving trip with The Prince of Monaco in the Red Sea. (By the way Your Highness, he kindly sends his regards.)

It is this passion and legacy I am honored to carry with me on my conservation journey and share with you here today in Nice, all the way from my hometown Riyadh.

My love for marine exploration continued to grow over the years, along with my diving qualifications. Sadly, my fascination with the breathtaking scenes underwater, were met with the emerging reality of deteriorating reefs in places like Sharm El Sheikh and Tahiti. This is when I started noticing a massive difference in the reefs of our diving areas.

Over the past 30 years, we have lost more than half of our coral reefs and at least 1/3 of our mangrove forests and seagrass meadows. Coastal development, pollution, overfishing, disease, and a rapidly changing climate are all taking their toll.

These ecosystems are not only important to the plants and animals that live there, but they provide food, income, and coastal protection to billions of people worldwide. While scientists estimate that one out of every six people on Earth depend upon these ecosystems for food or income, every person on this planet benefits from their existence, including our future generations.

The loss of these ecosystems, and the benefits they provide, would have a profound impact on the lives and livelihoods of billions of people around the world. Many communities, especially in small island nations, depend upon reef fish as a critical source of protein and micronutrients while many communities rely on reefs for income from tourism, recreation, and fisheries.

Mangrove forests and seagrass meadows are just as important, providing critical habitats for juvenile fish while improving water quality, reducing erosion, protecting the coast from storms, and sequestering massive amounts of atmospheric carbon.

It is evident that the loss of healthy oceans is not just an environmental issue; it is rather a security and humanitarian issue as well. If these ecosystems disappear, the communities who rely upon them disappear too.

Over the past three decades, Prince Khaled bin Sultan has committed to several ocean preservation projects through the concept of "Science Without Borders." A series of research and exploration projects executed by dozens of conscientious committed professionals, which culminated in the formation of the Khaled bin Sultan Living Oceans Foundation in the year 2000. Our mission is to protect and restore the oceans through science, education and outreach.

I now work with a dedicated team of scientists, educators, and communications professionals to tackle some of the most pressing issues facing our ocean today.

If nothing is done to save them, coral reefs as we know them today could be gone by the end of the century. Given the importance of this ecosystem to people, the oceans, and the environment, the Foundation has worked tirelessly to provide countries with science-based solutions to protect and conserve their reefs.

This includes the largest coral reef research mission in history: The Global Reef Expedition.

The Expedition involved over 200 scientists from around the world, who over the course of ten years surveyed, and mapped over 1,000 reefs in 16 countries, starting from the Saudi Arabian Red Sea, through the Caribbean, the Pacific Islands, and the Indian Ocean, which resulted in assembling over 65,000 square kilometers of coral reefs maps and the largest standardized data set on the state of reefs around the world.

The fact that we did this research many years ago means that there is now a baseline for the Red Sea development sites to evaluate changes to the reef over time and conserve the reefs now, before it's too late. Indeed, we are seeking partners to join us in this endeavor in the Red Sea and wherever coral reefs are in peril.

By taking this interdisciplinary approach to coral reef conservation, we were able to sign a Space Act Agreement with NASA, who will feed our data into their supercomputers to map all of the coral reefs in the world down to a centimeter scale. Because our maps cover a large section of coral reefs around the globe, and were ground-truth-verified with underwater data collected in the field, NASA can use our data to train their artificial intelligence technology to map the reef using images taken by satellites and drones. Because this technology relies on imagery, by using old and new satellite imagery, it will eventually be able to show the extent of changes to coral reefs over space and time.

Overall, some of the most impactful initiatives our collaborative efforts have accomplished include:
That the Foundation was the first to map all the coral reefs along the Saudi Arabian Red Sea coast, which resulted in one of the first Atlases that used remote-sensing technology to create high-resolution marine habitat maps. Now, over 15 years later, this research is receiving renewed attention as the Red Sea enters a phase of rapid development. Private and government agencies are now utilizing our maps, data, and expertise.
Our work has helped establish conservation areas in five countries and is currently being used to inform a coral reef management plan for the South Pacific.
We focused not just on the ecosystems themselves, but the communities who rely on them. By working closely with fishermen in Jamaica, we set aside a portion of their offshore fishing grounds as a protected area in order to help revive their local fishery.
Our compounded efforts have also secured The United Nations endorsement of our new project "Science Without Borders®: Conserving the Tropics," as part of its Decade of Ocean Science for Sustainable Development.
Our extensive outreach and education initiatives resulted in several award-winning films, in addition to the continuous development of practical educational programs, such as: the Coral Reef Ecology portal and the Mangrove Education & Restoration program along with an international student art contest.
Now, we are using our research and expertise to build resiliency models, so we can focus our limited time and resources on conserving the places most likely to survive in a rapidly changing world. This process takes time and dedication over many years, and sometimes decades.
What's next, you may ask? How can you as a global community support the efforts in turning slogans into practical, actionable steps? This is where we believe we can have the biggest impact: where people meet the sea.
With our experience conducting field research, and designing education and community outreach programs, we combine our passion with deep knowledge to save our oceans. Help us meet the challenge of our generation. We urge you to actively continue working across borders and disciplines to manifest the crucial and urgent changes we need to see in our oceans.
Ocean conservation efforts defy borders and individual institutions and affect people's quality of life. As my father wisely stated many years ago, "We do not hope to stop human development – only to ensure it is sustainable for future generations to benefit from healthy oceans."
Let us continue working and supporting this ecosystem —before it is too late.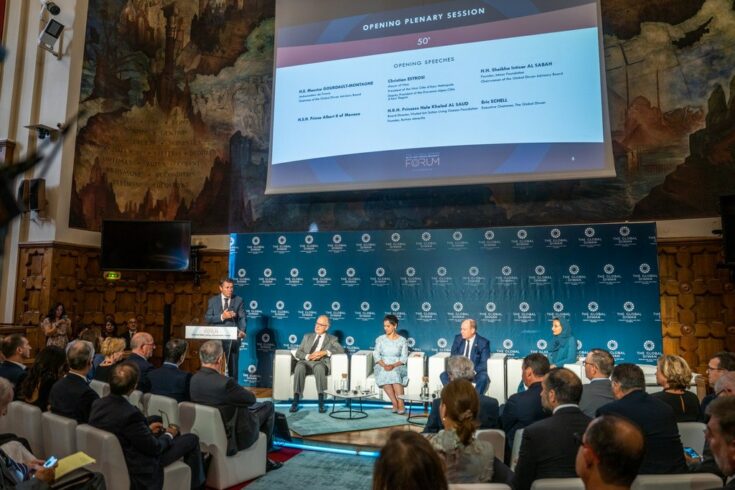 Explore all our latest news from the field