As teachers gear up for the start of the academic year, the Khaled bin Sultan Living Oceans Foundation has released some exciting educational resources for teachers to use in their classrooms. These resources were created to further the Foundation's goals of improving ocean literacy around the world. We hope teachers (and life-long-learners of all ages) find our educational resources useful in helping them learn about coral reefs, mangrove forests, and other tropical marine ecosystems.
---

MANGROVE DETECTIVES – A CITIZEN SCIENCE PROGRAM
We recently migrated all of the resources from our Mangrove Detectives program to our website. This citizen science program combines field and lab activities and online tools that help students identify potential mangrove disease and insect communities. Their findings are then shared with mangrove scientists who are looking at threats to mangrove forests in the Caribbean. We encourage teachers to explore these lesson plans and educational resources, especially if you live near mangroves.
---
NEW VIRTUAL REALITY EDUCATIONAL RESOURCE
We are thrilled to introduce an incredible technology resource that can enhance teaching the Coral Reef Types and Reef Zonation units in our Coral Reef Ecology Curriculum. We are proud to announce our first-ever virtual reality app, called Virtual Reef Expedition.
Now students can explore breathtaking coral reefs in the South Pacific Ocean and learn about the three main types of coral reefs. Once they grasp these fundamental concepts, they can dive deeper to learn about the fascinating zonation patterns that define each reef type. With a custom-built pencil, they can interact with the environment by taking notes, drawing, and making annotations directly on the screen. This hands-on approach promotes active learning and engagement. To access the lesson plans and explore how this app can be used alongside our other educational resources, simply login to our Education Portal.
---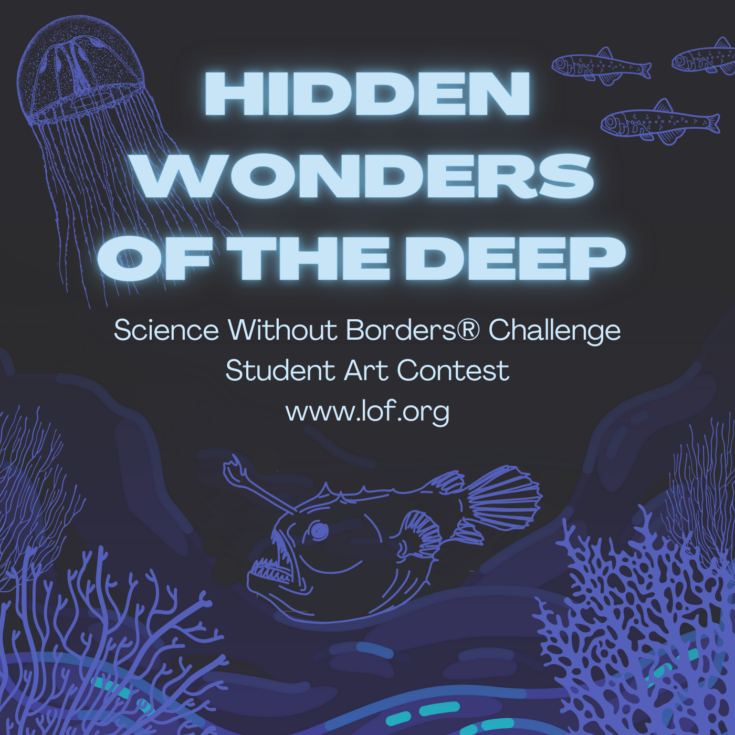 SCIENCE WITHOUT BORDERS® CHALLENGE – INTERNATIONAL STUDENT ART CONTEST
We are also delighted to announce our 2024 Science Without Borders® Challenge is now open. This international art contest welcomes students ages 11-19 who are enrolled in primary or secondary school or the homeschool equivalent.
This year's contest theme is "Hidden Wonders of the Deep." Students should submit artwork depicting mysterious and unique deep-sea creatures or ecosystems, highlighting the beauty and diversity that often goes unseen.
To be eligible for the contest, all entries must be received by Monday, March 4, 2024.
We invite you to visit our website to learn about the theme, review the contest rules, and explore helpful tips for success.
---
Other Educational Resources For Educators
In addition to these new educational resources, the Foundation continues to provide teachers with access to our award-winning Coral Reef Ecology Curriculum, lesson plans they can use in their classrooms, and educational videos and documentary films about life in the ocean. We hope all of these resources will be useful to teachers as they embark on the new academic year!
Explore all our latest news from the field